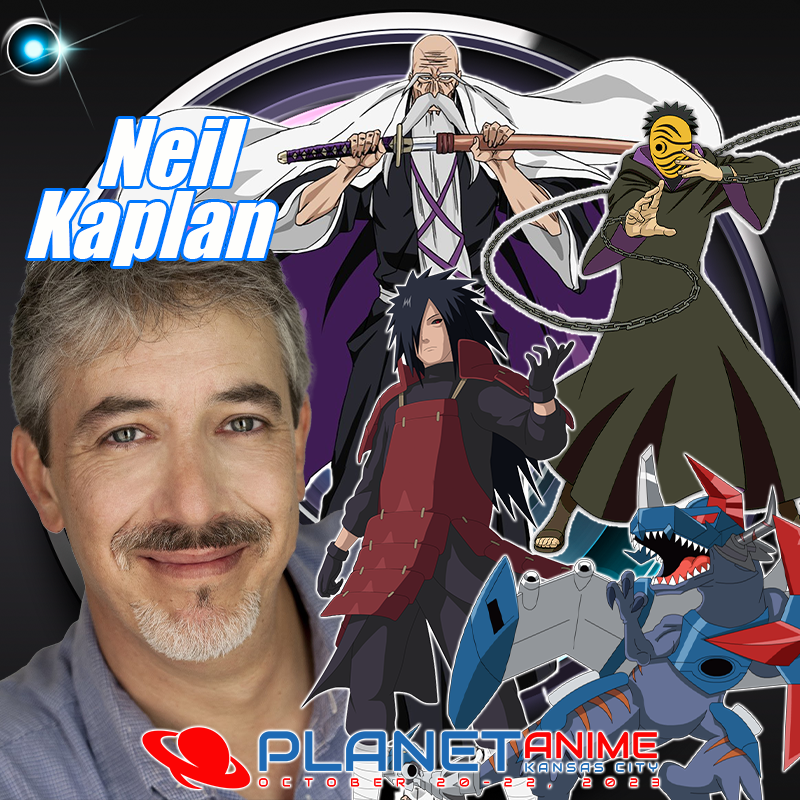 Autograph Price: $40 - 8x10", $50 - Pop, Quotes $20 longer than 6 words
Other Pricing: Combo Autograph/Selfie - $60 (8x10") / $70 (Pop)
Neil Kaplan is possibly best known around the world for having provided the voice for the iconic hero Optimus Prime on 2001's "TRANSFORMERS: ROBOTS IN DISGUISE".
On the opposite end of the spectrum of good and evil lies Neil's award winning portrayal of galactic Emperor Zarkon, on Dreamworks Animation's spectacular "VOLTRON: LEGENDARY DEFENDER".
Also on Netflix, he can be heard as the heroic Henry Graves in the short film "Suits" as a part of David Fincher's Emmy winning (adult) animated anthology series "LOVE, DEATH, AND ROBOTS" he also can be heard in the Oscar nominated, instant holiday classic, "KLAUS", and as Dr. Agon in "DRAGON QUEST: YOUR STORY". As Albus Dumbledore and the leader of G.I. Joe Extreme, on "ROBOT CHICKEN", as well as a wide variety of roles on "THE WACKY RACES", "PENN ZERO: PART TIME HERO", "BUNNICULA", "ASK THE STORYBOTS", "HIGGLYTOWN HEROES" are among his other voice work in animation.
Tens of millions of video game players & fans around the world know Neil for his captivating work in Blizzard's massive hits "STARCRAFT II" and "HEROES OF THE STORM" as roguish anti-hero, Tychus Findlay, as well as Lord of the Forest, Cenarius in "WORLD OF WARCRAFT". Then of course, there's Space dragon Aurelian Sol, is adored by "LEAGUE OF LEGENDS" fans around the globe. Meanwhile, at the center of the epic story of "DESTINY 2"is the primary antagonist, Dominus Ghaul, a character most players have a difficult time forgetting. Recently he voiced Tom in the groundbreaking "TELL ME WHY". Additionally, millions of video game players around the globe have heard his work in the massively popular franchises "SKYLANDERS", "GEARS OF WAR", "FALLOUT", "BIOSHOCK", "THE LAST OF US", "GUILD WARS", "RED DEAD REDEMPTION", "FINAL FANTASY", "ELDER SCROLLS", "DIABLO", and many more.
"STAR WARS" fans heard Neil on six episodes of the Disney+ hit series, "STAR WARS: VISIONS" as the Narrator for "THE NINTH JEDI", the Imperial Inquisitor in "T0B1", and numerous others littered through. Previously he voiced numerous alien creatures, humans, and even droids such as Skadge, Governor Adlehard, Boss Ganne, Darth Bandon and Bendak Starkiller in the video games "OLD REPUBLIC", "UPRISING", "BATTLEGROUNDS", and "KNIGHTS OF THE OLD REPUBLIC".
Anime fans loved Neil as Hawkmon (as well as ALL of his digi-volutions) and a variety of others on "DIGIMON", as Dozle Zabi in "MOBILE SUIT GUNDAM", and as Genryūsai Shigekuni Yamamoto, Gesell, Tetsuzaemon Iba, Zommari Rureaux, and others on the legendary series, "BLEACH". Conversely, anime fans continue to love to hate him as the villainous Obito, Tobi, and Madara Uchiha on "NARUTO: SHIPPÛDEN." Among his numerous other anime credits is the recent box office hit, "PROMARE" in which he played the enforcer, Vulcan Haestus. There's also cult favorite "ATTACK ON TITAN" featuring him as General Theo Magath, he was Capricorn El Cid on the gorgeous "SAINT SAIYA: THE LOST CANVAS", Robson Zuccoli on "LUPIN III". Other anime titles include, "GREAT PRETENDER", "LEVIUS", "CAGASTER OF AN INSECT CAGE, and more. He was also featured prominently on a trio of Marvel Anime series, as Tony Stark's primary nemesis on "IRON MAN", a council elder on "BLADE", and Magneto on "MARVEL DISK WARS: THE AVENGERS".
His voice was heard for years on the classic television series "MIGHTY MORPHIN' POWER RANGERS", as well as most of the franchise's first ten seasons. Neil was featured for the entire season voicing fan-favorite villain, Diabolico on "POWER RANGERS: LIGHTSPEED RESCUE". And on "POWER RANGERS: TIME FORCE" he was Vernon Wells' loyal henchman, Gluto.
Additionally, he was the voice of CNNN on Chuck Lorre's "DISJOINTED" airing on Netflix. And audiobook enthusiasts know him as the narrator for several books including the popular YA series, "I AM NUMBER FOUR". Neil is very proud of his most recent audiobook, the non-fiction, "WRITING TOOLS".
And lest we forget, he was once the voice of Funshine Bear. That's right, Neil Kaplan was even a CARE BEAR.